Force Touch technology that provides new user experience (UX) by recognizing strength of force that is exerted when Smartphone screen is pressed is developed for the first time in South Korea. Force Touch is a technology that is only commercialized by Apple, and a great change in a method of using Smartphone is expected.
Semiconductor development business called HiDeep (CEO Ko Bum Kyu) made an announcement on the 6th that it has developed Force Touch technology that can sense strength of force that is exerted when a screen is pressed.

This technology, which is named as '
auluZ', uses basic principle that senses a cover glass's change that minutely changes depending on force that is pressed on Smartphone's screen. Cover glass is a glass that is attached on front screen of Smartphone and it usually is made out of tempered glass to protect display from outside impact.
Although tempered glass is made out of strong material, variation takes place when it is pressed by a finger. A glass that looks flat bends very minutely. A sensor that is attached on back of display measures a degree of how much it bends and estimates level of force from a difference in measured values.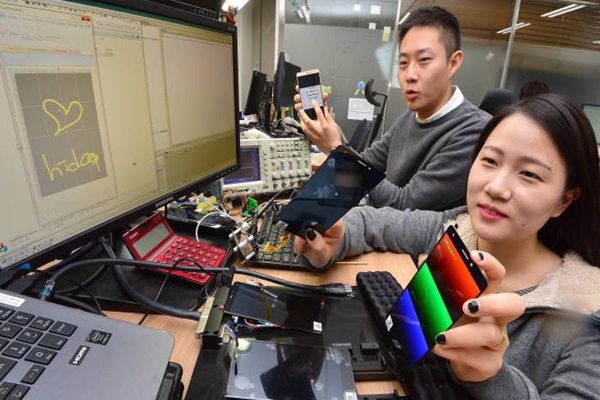 "We were able to discover that display bends depending on force." said President Ko Bum Kyu. "We developed our entire of our technologies such as technology that measures minute changes, algorithm technology that analyzes and estimates measured data and other technologies."
HiDeep's Force Touch technology was supplied to China's biggest Smartphone business Huawei and was actually commercialized. It was applied into Huawei's premium phone 'Mate8' that was introduced at Internationale Funkausstellung (IFA) in Germany in early September.
Mate S was recorded as world's first Force Touch Smartphone by being introduced earlier than Apple's iPhone on the 2nd of September. There was a South Korean venture company behind a background of Huawei being known as a business that introduced world's first Force Touch Smartphone.
Businesses that were able to commercialize Force Touch are practically nonexistent except for HiDeep and Apple. It is expected that HiDeep's technology will be focused as a new alternative for Android phones that are competing against Apple.
"We were able to secure more than 100 patents after preparing for technologies in the pat 4 years." said President Ko. "We are planning to help people who use Android equipment to have more convenience with their equipment."
HiDeep is a business that was established in 2010. Although it is a venture company with only 5 years of experience, President Ko
is a person who also established Integrant Technology back in 2000.
Integrant developed RF Tuner for mobile TV for the first time in the world and it was sold for $160 million (about 180 billion KRW) to a famous semiconductor business in the U.S. called Analog Technology in 2006. It was a very rare instance when a South Korean semiconductor development business was sold to a foreign business.
"I began to have more interest in basic interface that can change the world after I encountered Apple's iPhone in 2007."
said President Ko. "I once again established a venture company to give shape to my plan."
Staff Reporter Yun, Kunil | benyun@etnews.com
http://english.etnews.com/20151207200002